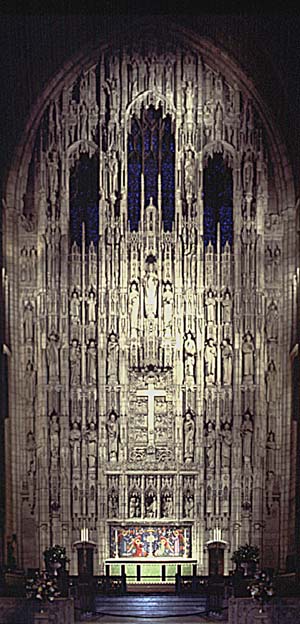 St. Thomas Church Interior showing
the Reredos and the High Altar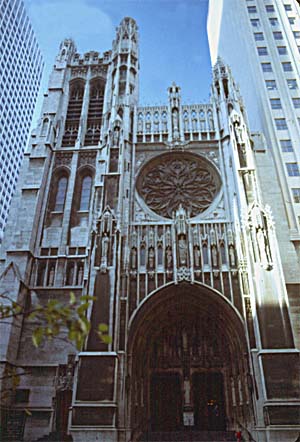 St. Thomas Church from the
East Side of Fifth Avenue, looking West
53rd Street is on the left
Richard L. Hess
St. Thomas Church
New York City
Music Home Page
The Official St. Thomas Church Web Site
NEWS
two of the author's recordings
now on CD!

The Saint Thomas Tradition Priory PRCD 910 info
Silent Night . . . at St. Thomas Priory PRCD 912 info
available from the Church
Contents of this site:
The church sells records directly. Please contact:
Music Office
St. Thomas Church
1 West 53rd Street
New York, NY 10019
USA
Fax: 212/977-6582

St. Thomas Church Official Recordings Page
Includes an order form
Please mention to them you saw it on my web pages. Thanks! (I get no money for this. This discography is something I wanted to do and make part of the public record.)
When I lived in New York City, I had the privilege to record the St. Thomas Church Choir of Men and Boys, Dr. Gerre Hancock, Organist and Master of Choristers. Since I left New York in 1981, I have missed this fine ensemble, but I have been keeping up to date on their releases. I am presenting a discography here for those who are interested, and am including organ recordings as well. This discography does not claim to be complete by any means. If anyone has more information, please e-mail me.
This site is unofficial and is not sponsored or connected in any way with St. Thomas Church.
richard@richardhess.com
©1997-2000 Richard L. Hess All Rights Reserved
Images of St. Thomas Church on these pages ©1978 Richard L. Hess