Joan Baez Main Page by Richard L. Hess
---
Thank you for visiting my Joan Baez web pages. This page has become the most popular on my web site.
Please consider visiting some of the other fine musical artists and organizations featured at this site.
All of these are found indexed on my home page.
[Judy Collins] [Marie-Lynn Hammond] [Priscilla Herdman] [Stringband] [Nancy White]
[St. Thomas Church, New York City] [The Cathedral of St. John The Divine, New York City]
---
Dark Chords on a Big Guitar
NEW 2003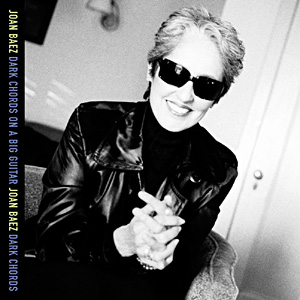 In My Time of Need - Hi Bandwidth Real Audio
In My Time of Need - Low Bandwidth Real Audio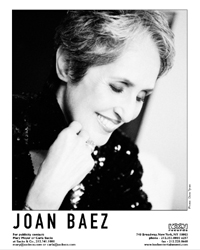 Joan Baez Dark Chords on a Big Guitar Bio as a Word document
---
---
Joan has, for many years, been a supporter of Amnesty International. Please consider supporting Amnesty International USA, 322 Eighth Avenue, New York, NY 10001. Mark any contributions as relating to Joan's music.
Nancy Lutzow and Jim Stewart have done a wonderful job of compiling an official discography at The Joan Baez Web Pages. What is presented here is some further information gleaned from and produced by a variety of Joan Baez fans that expand upon what is already at the official web site.
---
Discography notes at this site
Song and Video information at this site
Other Web Resources
---
An interesting find
An 7-inch lacquer original (not pressed) single containing a duet between Joan and Judy Collins surfaced in a used record store. See my comments on Judy's page.
---
richard@richardhess.com
Please visit Richard's home page.
©1997, 1998 Richard L. Hess All Rights Reserved